HAPPY BIRTHDAY SYLVIA FROOS!
BIRTHDAYS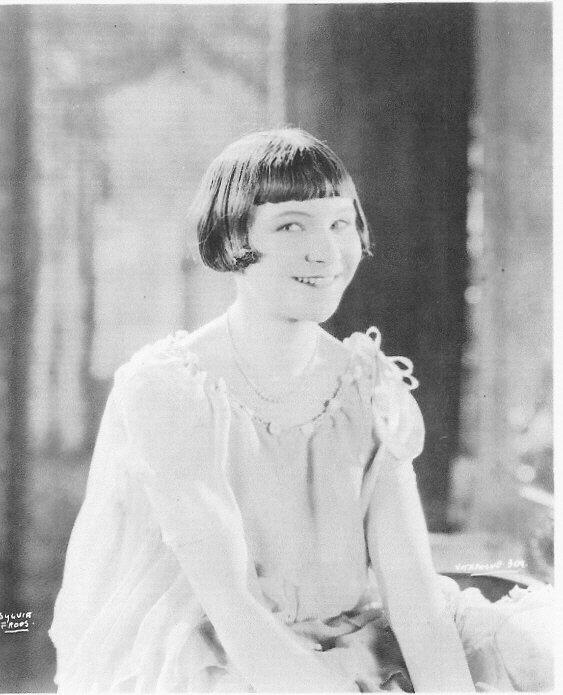 1914
Sylvia Froos, vocals/actress
d. March 28, 2004, New York, NY, USA. (Massive Stroke).
Sylvia was a child star whose talent allowed her to become an adult star. (A rare occurrence.)
As "Baby Sylvia Froos" she introduced such hit songs as "In a Little Spanish Town", and "Mr. Radio Man". In 1927, she made musical film history when she appeared in one of the very first "talkie" Vitaphone 'Shorts' (released by Warner Bros.) entitled "The Little Princess of Songs". Just six months later, Warner released "The Jazz Singer", starring Al Jolson, the first full length "talking film". While still a child, she played the vaudeville circuit as "The Little Princess", and later as an adult was billed as "The Princess of Song".
During her childhood, Sylvia shared the stage with such stars as tap dancer Bill "Bojangles" Robinson, and Bing Crosby appearing with the Rhythm Boys and the Paul Whiteman orchestra. During the 1930s, she often appeared on radio programs (as a singer), including appearing on comedian Fred Allen's popular program. In 1931, she appeared on the stage of New York's famed Palace Theatre, on a bill headlined by the Marx Brothers. In 1933, she again played the Palace. In 1934, she was seen in the Hollywood film, "Stand Up and Cheer", dressed as a 'cowgirl' and singing "Broadway's Gone Hillbilly". She also had her own show on the NBC network.
A 1935 Los Angeles Times article mentioned that she had recently appeared with Rudy Vallee, and would be appearing on the Al Jolson 'Shell Chateau" radio program. (The newspaper had a picture of her dressed in a double-breasted suit with bow tie, and wearing a cocked straw hat, while standing in front of a NBC microphone.) In a 1935 poll, she was one of the top choices for 'Best Female Pop Singer".
Among her hits that year were "Who's Your Little Who-zis" and "You Don't Know The Music". American Vaudeville began to decline in the mid-1930s, but Sylvia was able to work on European vaudeville stages, -in Dublin Ireland, and Londan, England. She even appeared on a very early English television show.
In the early 1940s, she became resident in New York City, and was also seen in many 'Short Subject' films. She became a "Ocean Cruise Ship" booking agent for show talent, and by the mid-'50s, was fully retired. In her later years, she was gratified when a new generation discovered her by watching her "short subjects" on such TV shows as "Turner Classic Movies". In 1976, her 'oral history' entitled "The Vaudevillians" was published. Sylvia never married.
1905
Tommy Benford, Drums
b. Charleston, WV, USA.
d. March 24, 1994.
Thomas "Tommy" Benford was an African American jazz drummer.
Played with 'Jelly Roll' Morton's Red Hot Peppers.
Tommy Benford was the younger brother of tuba player Bill Benford. He studied music at the Jenkins Orphanage located in South Carolina. He went on tour with the school band including traveling to England in 1914.
In 1920, he was working with the Green River Minstrel Show. Benford recorded with Jelly Roll Morton in 1928 and 1930. He also played with Duke Ellington, Fats Waller and Eddie South. During the 1930s he stayed in Europe for a longer time, where he recorded with Coleman Hawkins, Bill Coleman, Joe Turner, Django Reinhardt, and Sidney Bechet. During the 1940s he worked with Noble Sissle, with Snub Mosley and Bob Wilber in New York City. At Jimmy Ryan's club he gigged with Rex Stewart. During the 1950s he toured with Muggsy Spanier and with Jimmy Archey.
In later life he played with Stan McDonald. Benford died on March 24, 1994.
Tommy Benford - Wikipedia
TOMMY BENFORD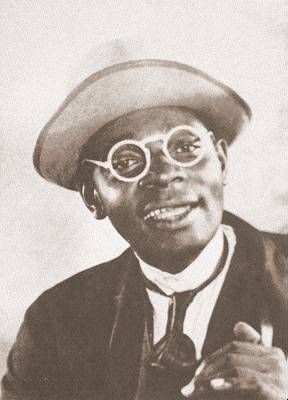 1898
"Doctor" Clayton, American blues singer and songwriter.
b. GA, USA.
Peter Joe Clayton was born in Georgia, though he later claimed he had been born in Africa, and moved to St. Louis as a child with his family. He had four children and worked in a factory in St. Louis, where he started his career as a singer (he could also play piano and ukelele, though he never did so on record). Clayton recorded six sides for Bluebird Records in 1935, but only two were ever issued. Clayton's entire family died in a house fire in 1937; following this Clayton became an alcoholic and began wearing outsized hats and glasses. Moving to Chicago with Robert Lockwood, he received attention from Decca Records but ultimately returned to Bluebird, recording with them again in 1941-42. He also recorded for Okeh Records at this time.
Among the songs he wrote were "Cheating and Lying Blues", frequently covered by other blues artists; "Pearl Harbor Blues", written after the Pearl Harbor bombing of 1941; and "Moonshine Woman Blues", which became a chart hit for B. B. King under the name "The Woman I Love" in 1968. He recorded again in 1946, recording the tunes "Hold That Train, Conductor" and "I Need My Baby" which were also both covered by King. Most of his later recordings featured Blind John Davis on piano. He was a regional sales success and played regularly in Chicago nightclubs with Lockwood and Sunnyland Slim.
Clayton died of tuberculosis in January 1947, in Chicago, shortly after his second recording session. Big Bill Broonzy and Tampa Red attended his funeral.
Document Records has released all of Clayton's output recorded between 1935 and 1942 on one CD; Old Tramp Records released the remaining 1946 recordings.
~Wikipedia
Discography
1915
Joe Greene, songwriter
b, Spokane, WA, USA.
A green light for songwriters? That would have to be Joe Greene, based on the west coast for most of his career. If the songwriting craft was a stoplight, and budding tunesmiths the drivers, the best advice for the traffic would be to move when Greene says so, or follow his example. By writing songs that were both clever and unusually appealing, Greene enjoyed the benefit of his material moving around through a variety of genres. The finest singers and bands gravitated toward his material, and not only in the '30s and '40s when vocal artists were recording prolifically and needed to be on the receiving end of an expressway full Tin Pan Alley material. In later years, performers such as Ray Charles would sniff through the Greene songbook in order to find a song perceived to have overwhelming emotional impact, and usually correctly so.
The stylishness of Greene's composing also meant that, in some cases, an exciting new genre would become partially identified with one of his songs. In western swing, giddy material such as Greene's "Across the Alley from the Alamo" became as symbolic of the genre as dueling steel guitars and the leader's encouraging whoops. This song, like Greene's phenomenal "Don't Let the Sun Catch You Crying," are examples of the strong visual imagery this songwriter is a master at, regardless of whether his goal is to inspire titters or tears.
In his early career, Greene was closely associated with fellow songwriting genius Hoagy Carmichael and the progressive jazz bandleader Stan Kenton. The interpretations of Greene material by the Kenton band's vocalist, June Christy, are superb, and can be easily sampled on recordings issued under her own name. Greene's career continued to blossom in the '60s and '70s, when he worked on music and scripts for feature films and also wrote novels such as House of Pleasure. It is easy to feel sympathy toward those who would like to credit him with writing and directing the awful horror film The Brain That Wouldn't Die, if only to admit he had weak moments -- but that was another Joe Greene, of which there are many.
The songwriter dabbled in album production, and is credited with discovering Ernie Andrews as far back as 1945, on the day when this obscure vocalist -- a classic singer's singer type -- won a local amateur show at the Lincoln Theatre in Los Angeles. Greene produced the first Andrews sessions, including the song "Soothe Me." Andrews' biggest hit, the tune was written by Greene for Andrews, and like many of his songs, recorded by dozens of other artists over the years.
~ Eugene Chadbourne, Rovi
b. North Little Rock, AR, USA.
d. 1937. né: William A. Hill
Alex Hill (1906–1937) was an American jazz pianist.
Biography
~by Scott Yanow
A valuable and talented musician/arranger whose life was cut short by illness, Alex Hill accomplished a great deal in a short period of time without gaining any real fame. Considered a bit of a prodigy, Hill was taught piano by his mother. He attended Shorter College and met Alphonse Trent, for whom he wrote his first arrangements.
After graduating in 1922, at the age of 16, he spent a couple years freelancing in territory bands including a brief stint with Terrence Holder's Dark Clouds of Joy. Hill led his own group (1924-1926), played with Speed Webb in 1926, and the following year was with Mutt Carey's Jeffersonians in Los Angeles, also contributing arrangements for Paul Howard's Quality Serenaders. Later in 1927 he settled in Chicago and soon Hill was the staff arranger for the Melrose Music Publishing Company in addition to contributing arrangements for the Carroll Dickerson Orchestra. In 1928 he played with Jimmy Wade and the following year was a member of Jimmie Noone's Apex Club Orchestra.
During a tour with Sammy Stewart's Orchestra, Hill relocated to New York in early 1930. He freelanced as an arranger for such artists as Paul Whiteman, Benny Carter, Claude Hopkins, Andy Kirk, Ina Ray Hutton, the Mills Blue Rhythm Orchestra, and Duke Ellington, plus contributed charts for recording dates headed by Fats Waller, Eddie Condon, and Willie Bryant. Hill was also the staff arranger for the Mills Music Company. He teamed up with fellow pianist Fats Waller for a revue, Hello 1931, and accompanied singer Adelaide Hall as part of a piano duet along with Joe "Stride" Turner. Things were looking up in 1935 when Hill formed a big band but, after playing at the Savoy Ballroom, he was forced to break up the group due to his failing health, caused by tuberculosis, and not helped by excessive drinking and overwork. After returning home to Little Rock, he passed away at the age of 30.
Most of pianist/arranger's recordings have been gathered together on the 1998 Timeless CD Ain't It Nice: The Recordings of Alex Hill, Vol. 1 - 1928-1934, including the highlights of dates with Albert Wynn, Jimmy Wade, Jimmie Noone, Junie Cobb, Eddie Condon, and the Hokum Trio, plus all of his 11 titles as a leader. Among Alex Hill's best-known compositions are "Beau Koo Jack" (recorded by Louis Armstrong in 1928), "I'm Crazy 'Bout My Baby," "Baby Brown" (a minor hit for Fats Waller), and especially the standard "I Would Do Anything for You."
1897
Vivienne Segal
Vivienne Sonia Segal (April 19, 1897 – December 29, 1992) was an American actress and singer.
~Biography
Segal was born on April 19, 1897, in Philadelphia, Pennsylvania.
She is best remembered for creating the role of Vera Simpson in Richard Rodgers and Lorenz Hart's Pal Joey and introduced the song "Bewitched, Bothered and Bewildered". Pal Joey opened at the Ethel Barrymore Theatre December 25, 1940, with a cast that included Gene Kelly and June Havoc. She also starred as Morgan LeFay in the Rodgers and Hart revival of A Connecticut Yankee in 1942. One of Lorenz Hart's last songs, "To Keep My Love Alive", was written specifically for her in this show.
Since the 1940 production went unrecorded, a studio cast was assembled in 1950 to record the musical. In 2003, this recording was reissued by Columbia Broadway Masterworks in a release featuring such Rodgers and Hart tunes as "I Could Write a Book", "Bewitched, Bothered and Bewildered", "Zip", and "Take Him," as well as two bonus tracks: Lang singing "I Could Write a Book" (from the CBS TV show Shower of Stars) and Segal—interviewed by Mike Wallace on the CBS Radio show Stage Struck—recalled Hart's promise to write her a show and then sings "Bewitched, Bothered and Bewildered". She was also a performer on the CBS Radio program Accordiana in 1934. She retired from acting in 1966 following a guest appearance on Perry Mason as Pauline Thorsen in "The Case of the Tsarina's Tiara."
Segal's first marriage to actor Robert Ames ended in divorce. She then married television executive Hubbell Robinson.
She died in Beverly Hills, California of heart failure on December 29, 1992, aged 95. She was interred in the Westwood Village Memorial Park Cemetery in Los Angeles.
Vivienne Segal | Jewish Women's Archive
1900
E. R. Lewis, co-founder of Decca Records
b. Derby, England.
1895
Jim Wolverton, C&W vocals
b. Mississippi, USA.
Member group: "Leake County Revelers"
Notable Events Occurring
On This Date Include:
1944.
Jimmy Noone died in Los Angeles, CA, USA.
Age: 48.
Jimmy was one of the three top New Orleans clarinetists of the 1920s.
Jimmie Noone - Wikipedia
Jimmie Noone
died in Chicago, IL, USA.
1988.
Ed Burke, trombone
died in New York (East Elmhurst), NY, USA.
Age: 79.
Edward Burke: Information from Answers.com
1998.
Earl A. Bolick, singer/guitarist
with the 'Blue Sky Boys', died at age 78.
(heart attack.)
The Blue Sky Boys - Wikipedia